Take the Soul Journey to the Summer Solstice!

Regenerate & Roar
with your Ancestors and the Earth!
5 Days
Live
From Anywhere
REGISTER NOW
WHAT DO YOU GET FROM A SOUL JOURNEY TO THE SUMMER SOLSTICE?
When you take the 5-Day Soul Journey, you get a set of tools called
The 5R's to Regenerate and Roar with the Earth and your Ancestors.
We lovingly help you to connect with your Ancestors, gain a Tree or Animal Mentor; and Decolonize your body-mind and spirit.
👐🏾 Rest--We help you to slow down so that you feel safe enough to let your body rest.
👐🏾 Release--Our process helps you to let go colonizing thinking like Us vs. Them and to release shame and regret so that you can bring Presence rather than pain to your work.
👐🏾 Restore--We show you how replenish your energy by restoring trust with the earth, your ancestors, and yourself--after depleting or ignoring your Intuition.
👐🏾 Root--In Love. We show you how to access your heart's guidance and visions that are beyond the current paradigm.
👐🏾 Roar--By the end of our journey, you will emerge confident and able to use your voice about your visions and next steps that might include pausing, intensifying, or shifting direction.
If you are tired, anxious or unsure about your next steps, you are in the right place!
Nature is your Guide and Partner in practicing the 5Rs during the Soul Journey and after.
This soul journey helps you to personally evolve and advocate for racial justice, compassion for all people, and co-create with the earth.
REGISTER NOW
Even More Courage to Speak with Love...
Confidence, even more courage, to speak with love my truth and my truth is as it always was, but I'm not angry about it anymore...I believe through love and real effort we can really blossom into who we should be as a society, a community, as a world.
-Joyce Washington
Community and Racial Justice Advocate
Tennessee
IMAGINE YOURSELF...
Saturday June 17-Wednesday June 21
Perfect combination of virtual and real life.
Starting each morning at 10-11:15am eastern where you get guided through a gentle but deep body and energy practice that helps you to EXPERIENCE the R of the Day. This is time for you to let your Soul Process in the safe container created by Amanda Aminata Sol and your ancestors.
After the call, you take a break; resume work; do what you need to do.
In the afternoon you choose one or more of the practices from from the Journey to the Summer Solstice 5 R's Guidebook & Journal.
Practices take 15-30 minutes. You could form a healing friendship with water or a tree; create an altar or earth art that inspires and grounds you; or honor your biological, spiritual, artistic, or family of choice ancestors.
You choose something simple, and easy like sit by a favorite tree or put your fingers in a stream. But you listen and feel every sensation. You use our method to ask the tree an important question and you receive its surprising advice with gratitude.
Then, before you go to bed, you journal or draw, answering prompts in the Journey to the Summer Solstice 5 R's Guidebook & Journal, reflecting on the day.
The next morning you feel rested and honored as you join the group. Each day you get a little more connected to your Ancestors, the Earth, your heart and body.
By Day 5, you ROAR, participating in the Summer Solstice Fire ritual with confidence and gratitude. You have an incredible sense of belonging to Something Bigger. Your self-doubt and inner critic voices feel settled and heard. You're not fighting yourself. You know how to give yourself what you need.
Together with the community, your ancestors, and the earth you have journeyed through the 5 R's of Regeneration and are now ready to follow your heart's guidance.
AWAKENING TO EARTH & ANCESTRAL GUIDANCE FOR JUSTICE AND LOVE
I was guided back to...the greater Love
This morning I sat at dawn at the base of a large birch. She is graceful and majestic.
My attention went to my throat, where I felt a sensation of panic.
As I sat with all these sensations, I opened to what came through, and I was guided back
to the brilliant boldness of my connection to the greater Love - of grace and beauty that
was this birch.
-Rebekah Johnson

How the Soul Journeys Evolved
A couple of years ago I slowed down my very successful racial justice training and consultancy practice because I got the message that the trees in my backyard wanted to adopt me.
I was shocked, embarrassed and wondered if I was going "crazy." But little by little I began to relate to the trees in my yard and throughout the neighborhood. I used journaling as a way to communicate and even got a tent so I wouldn't feel so exposed and weird communing with trees.
The trees shared beautiful messages of love; how to deal with past trauma; how to stop overworking and over giving, and more.
The key has been to reconnect my physical body with nature's cycles and LOVINGLY decolonize my body-mind and spirit.
I trust me.
I am enough.
I have what I need.
The wisdom is simple and powerful. Now I invite you to journey with me!
Grounded in Love...
I feel held and grounded in love... A beautiful commitment among us to practice unconditional self-acceptance so that our work together and in the world flows through with more ease and less effort.
--Amy Kietzman
Forest Tender and Wise Woman
Pennsylvania
---
Why You Need a Soul Journey Now...

State legislatures are banning books and African American history
Bathroom Gender Privacy.
People are feeling unsafe and angry.
Summer heat can trigger protests, uprisings, and mobs.
Our communities need grounded, soul-full leadership from the heart.
However, you can't bring that energy if you are depleted, grieving, doubtful, critical, or resentful.
You cannot attract new people, more resources, or creatively work for compassion and justice if you are overworked and efforting instead of flowing.
Think of the monarch butterfly which migrates across two continents by riding the currents.

The Soul Journey prepares you to root in your values and flow with the larger energy cycles of the Earth.
REGISTER NOW
I came away with a new approach I have used with good results
I calculate that for every two hours I spent in sessions with Dr. Kemp I came away with a new approach or practice that I have used with good results in my antiracism work—even though I had already been doing that work for 15 years.
--David Etheridge



Frequently Asked Questions
1. What if I can't or prefer not to attend all of the online sessions?
2. Is this a Safe Space for me?
3. What if I'm nervous in nature or I don't know what to do when I'm outside?
4. Can I do a Soul Journey if I have to work?
5. How much time will this take?
6. What if I need a scholarship?
7. Is this a religious program?
8. What if I don't know or like my Ancestors
9. How do I reach Dr. Amanda Kemp Aminata Sol Plant Walker Fire Woman?
Also known as Dr. Amanda Kemp, I am the founder of Racial Justice from the Heart and the author of the Amazon best-seller Stop Being Afraid: 5 Steps to Transform your Conversations about Racism and her popular Tedx Talk "How to Lean into to Conversations about Race."
I had a spiritual awakening in 2021 when I received the message to stop everything because the trees on my land wanted to adopt her. Now I integrate the wisdom from trees into my Mother Tree Network Podcast.
Over the course of a two-year learning journey, I have been working with deeper truths underneath social justice, journeying with plants and fungi, and subsequently received my name Aminata Sol Plant Walker Fire Woman from an ancestor.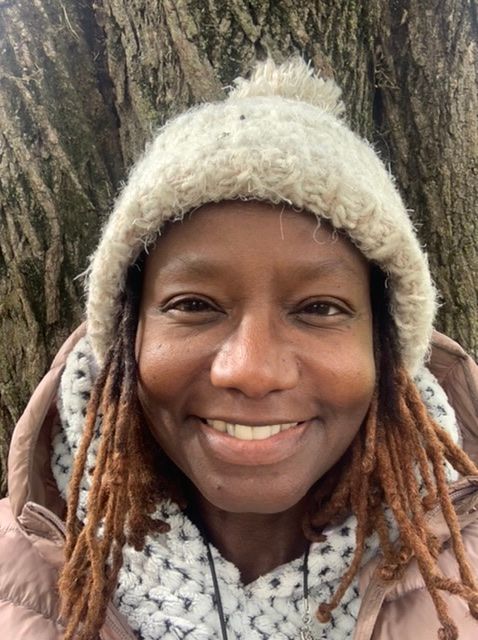 If you want to lovingly decolonize your body-mind and spirit, I want to work with you.
If you are tired or frustrated with the limits of the current paradigm, you are in the right place.
If you are ready to listen to the deepest and highest level of truth and wisdom in your heart, and in the natural world, I may be your guide.
REGISTER NOW
Guest Teacher Biz Cush
I'll be joined by Biz Cush therapist, life coach and host of the Awaken your Wise Woman podcast.
Biz uses Internal Family Systems (IFS) and her own experience with Anxiety to help you slow down and befriend the parts of you that are filled with doubt or self-criticism. Together we will help you to Restore trust within yourself, your Ancestors and the Earth.
Respond to challenges with creativity and calm
Even though the world is in turmoil, Biz supports people to share their authentic selves and to view things differently, and respond to challenges with creativity and calm.
—Warrior Manjusri
Amazing ability to sift through complexities & glean simple truth
What most strikes me about Biz is her calm demeanor and ability to truly listen. There are times where she says something that makes me pause and think, "Wow...I never thought about it that way before." She has an amazing ability to sift through the complexities and glean simple truth.
—Melvin Varghese